Poehling´s hat-trick wins Americans the duel against Czechs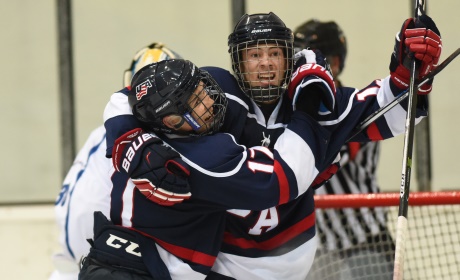 In the face to face duel for the 1st place of the Group A, American and Czech players met in the very last game of this year´s group stage. The game was decided in the middle period when American captain Poehling scored a hat-trick within only 11 minutes. Czech players will play their semifinal game against Sweden, Team USA will challenge Russian players.

Czech Rep.
2:4

USA
Periods: 1:1, 1:3, 0:0
Czech Rep.: Vomacka – Mikyska, Rutar, Salda, Galvas, Kral, Bednar, Bukac – Kaut, Necas, Svoboda – Zadina, Hladonik, Kern – Safin, Kondelik, Chytil – Dvorak, Skvrne, Novak.
USA: Primeau – Inamoto, Miller, Anderson, Walsh, Phillips, Keane, Brickey, Mirageas – Lodnia, Chmelevski, Pratt – Messner, Poehling, Pastujov – Kastelic, Dovorany, McManus – Seitz, Miller, Dougherty.
Goals and assists: 12. Chytil (Safin, Bukac), 35. Safin (Necas, Kaut) – 9. Lodnia (Chmelevski), 29. Poehling (Pastujov), 39. Poehling (Chmelevski, Pastujov), 40. Poehling (Pastujov).
Shots on goal: 25:42 (4:12, 7:18, 14:12).
Penalties: 6:7. PP goals: 1:2. SH goals: 0:0.
Referees: Hejduk, Hradil – Tošenovjan, Hlavatý. Attendance: 2103.
Photogallery
Game report
The game was opened with a quick and precise combination by the overseas team when
Vanya Lodnia
exchanged the puck with Chmelevski and the firstly named in front of an open Czech net did not have any problems to aim well. Home players managed to respond by a nice action -
Filip Chytil
received a quick pass from Safin from the space behind the net and found a place between Primeau's pads.
The second period could be called as a time of Ryan Poehling. This young American player scored a hat-trick in 11 minutes. Firstly, he finished a breakaway situation 2 on 1 which was played also with Pastujov. In the 39th minute he did not give a slight chance to Czech goalie with his quick and precise shot from the right circle and after another 63 seconds he simply punished troubles in Czech games.
Home players answered only by Ostap Safin who scored his success between the 1st and 2nd Poehling's goals. Despite Czech effort in the last period the home players did not get back into the game by scoring the contact goals so they lost 2:4 to Team USA.
American players therefore won their group and can already look forward the next game - surely spicy duel with Team Russia.
Czech team will face Sweden team in semifinals.
Reactions
Václav Varaďa, head coach of Czech Republic: There was a lot in stake. I think that we played how we should have in the third period. The team which makes more mistake usually loses. The key moment of the game was when we let in two quick goals at the end of the second period despite there were five of our players trying to defend two opponents. It is a shame that we did not manage to keep the game close because they looked pretty nervous at the beginning of the third period. Today, we also tried to save some energy and give a chance to the guys who did not play a lot before.
Clark Donatelli, head coach of USA: I keep talking about our leadership group and they are there. I thought the guys played really well, they played fast hockey, executed the game plan and we also had some balanced scoring from more lines tonight. We just keep getting better and better every game. Now we are looking forward to play against Russia, they are going to be a good team. We are going to take our rest tomorrow and get the boys ready and focused again.
Year
Schedule
Short news
Saturday´s schedule
12.8.2016
- Bronze medal game: SWE vs RUS, 15:00 CET at Bratislava. Gold medal game: USA vs CZE, 17:30 CET (note time change) at Břeclav.
Friday´s schedule
11.8.2016
- Friday´s schedule is as follows: 14:00 - SVK vs SUI (7th-8th, at Bratislava), 15:30 - CAN vs FIN (5th-6th, at Břeclav) 17:30 - USA vs RUS (semi-final, at Bratislava), 19:00 - SWE vs CZE (semi-final, at Břeclav). All times CET.
Pre-tournament games
12.7.2016
- Before the beginning of the 2016 Ivan Hlinka Memorial Cup, two pre-tournament games will be played on August 6th. The Czech Republic will play the Canada in Břeclav (18:30), while Slovakia face USA at 17:00 in Piešťany. Coverage of these games will be available at onlajny.com!
Twitter MIH
9.7.2016
- The Ivan Hlinka Memorial Cup also has a Twitter acount. You can find it
here
!
New partner - CEZ Group
6.7.2016
- Ivan Hlinka Memorial Cup 2016 has a new partner - CEZ Group.
Facebook
Partners