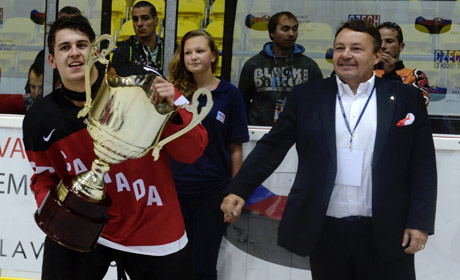 Winning the Ivan Hlinka Memorial Cup is a special accomplishment for everyone on Team Canada. For two players with Czech roots, it is especially big. Adam Musil is the son of legendary Czech defenceman František Musil and spend a good deal of his childhood living in the country, while captain Travis Konecny is a couple generations removed. Read more »
It was Team Czech Republic that had the support of the home fans behind them, but Team Canada took care of business quickly, scoring four goals in the first period, then cruising to a 6-2 win. Offensively they were led by 3 points by Mitchell Marner. The win completed a tournament where Canada won all five games, and each one by at least a four-goal difference. Read more »
USA beat Sweden 5-4 in overtime to win bronze at 2014 Ivan Hlinka Memorial Cup. Sweden launched a late comeback in the third period and scored two goals in last ten minutes of regular time, but Dennis Yan of Team USA scored the winning goal at 64:03. Read more »
Final standings (2014)
| | |
| --- | --- |
| 1. | Canada |
| 2. | Czech Republic |
| 3. | USA |
| 4. | Sweden |
| 5. | Finland |
| 6. | Switzerland |
| 7. | Russia |
| 8. | Slovakia |
Group A
| | | | | |
| --- | --- | --- | --- | --- |
| 1. | Czech Rep. | 3 | 19:7 | 9 |
| 2. | USA | 3 | 18:12 | 6 |
| 3. | Finland | 3 | 12:15 | 3 |
| 4. | Russia | 3 | 8:23 | 0 |
Group B
| | | | | |
| --- | --- | --- | --- | --- |
| 1. | Canada | 3 | 15:3 | 9 |
| 2. | Sweden | 3 | 14:8 | 6 |
| 3. | Switzerland | 3 | 6:13 | 3 |
| 4. | Slovakia | 3 | 3:14 | 0 |
Partners
Short news
Saturday´s schedule
15.8.2014
- Following games will be played on Saturday, August 16:
Břeclav:
17:00 Czech Republic – Canada (final)
Piešťany:
15:00 USA – Sweden (bronze medal game)
Friday schedule
13.8.2014
- On Friday, August 15, following games will take place:
Břeclav:
15:30 Finland – Switzerland (5th place)
19:00 Czech Rep. – Sweden (semifinal)
Piešťany:
14:00 Slovakia – Russia (7th place)
17:30 Canada – USA (semifinal)
Preliminary round
4.7.2014
- will be played in two groups. Group A, based in Břeclav, consisting of the Czech Republic, Russia, Finland and USA, and Group B, based in Piešťany, consisting of Slovakia, Canada, Sweden and Switzerland.
2014 Ivan Hlinka Cup
4.7.2014
- will take place in Břeclav and Piešťany again, between August 11 and August 16.
Live text
4.8.2013
- All games of the tournament will be broadcasted via a live text commentary
here
.
Facebook