Close win 4-3 lets Finland to fight for the 5th place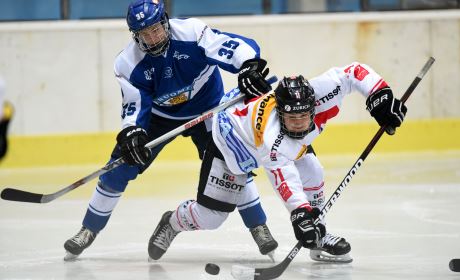 Even before the very start of the duel it was clear that neither of these teams had even a theoretical chance to advance into semi-finals. The Finns found their way to win despite the final resistance of the Swiss.

Finland
4:3

Switzerland
Periods: 0:1, 2:0, 2:2
Finland: Lehtinen – Isiguzo, Vaakanainen, Teravainen, Vesterinen, Rasanen, Utunen, Viitasalo, Anttalainen – Nyman, Heponiemi, Moilanen – Virtanen, Talvitie, Parkkari – Pajuniemi, Koskenkorva, Engberg – Kerkkanen, Hartikainen, Seppala.
Switzerland: Zaetta – Greisser, Brunner, Gross, Matewa, Le Coultre, Wuthrich, Lehmann, Schupbach – Kurashev, Hischier, Simic – Tanner, Sigrist, Muller – Reymondin, Kobler, Zbinden – Eggenberger, Leuenberger, Dopfner.
Goals and assists: 24. Anttalainen, 31. Nyman (Moilanen, Heponiemi), 45. Pajuniemi (Engberg), 46. Nyman (Heponiemi, Moilanen) – 8. Reymondin (Zbinden, Kobler), 41. Muller (Hischier), 51. Hischier (Eggeneberger, Geisser)
Shots on goal: 24:24 (9:9, 7:5, 8:10).
Penalties: 7:7. PP goals: 0:2. SH goals: 0:0.
Referees: Pešina, Pražák – Brejcha, Suchánek. Attendance: 284.
Photogallery
Game report
The first opportunity to score came to Swiss account when at the beginning of the 5th minute Reymondin got on a breakway but his shot after a good deke hit the crossbar. He did not have to regret it for long because after 2 minutes
Gil Reymonds
opened the score as he did not give Lehtinen any chance to save. Swiss players tested themselves by getting 3 minor penalties in less than 2 minutes but they killed all of them so they earned their lead even better.
But the 2nd period belonged to their opponents. Firstly, it was Aleksi Anttalainen who made the game tied in the 24th minute and the Finnish joy spread again in the middle of the game as Moilanen found precisely Linus Nyman alone in front of Swiss net.
The beginning of the last period worked better for Team Switzerland because only after 5 seconds (yes, only 5 seconds) Nicolas Müller did not overthink the situation after the opening face-off, skated on left wink and fired precisely. Finnish players found their way to the lead again in the 45th minute as Lauri Pajuniemi took an advantage of Messerli's mistake. The lead was doubled few moments later thanks to Linus Nyman who was forgotten by Swiss defense and had no troubles to beat Messerli who substituted Zaetta in Swiss net in the 38th minute.
Team Switzerland only cut the lead by Nico Hischier and his great one timer from the right circle but Finnish players had he game under control, so they could celebrate their 4:3 victory!
Year
Schedule
Short news
Pre-tournament games
28.6.2017
- Before the beginning of the 2017 Ivan Hlinka Memorial Cup, two pre-tournament games will be played on August 5. The Czech Republic will play the Canada in Břeclav, while Slovakia face USA. Coverage of these games will be available at
onlajny.com
.
Interested in history?
6.6.2017
- Do you know who won the Cup last year? Which team has won the most gold medals?
HERE
you can review the history.
Facebook MIH
5.6.2017
- Are you interested in what is going on at the Ivan Hlinka Memorial Cup? Keep an eye on
our facebook page
and stay up to date.
Twitter MIH
1.6.2017
- The Ivan Hlinka Memorial Cup also has a Twitter acount. You can find it
here
!
New partners
1.6.2017
- Ivan Hlinka Memorial Cup 2017 has a new partners - Hitachi and Czech Tourism.
Facebook
Partners