Russians stun Canada with 2 late goals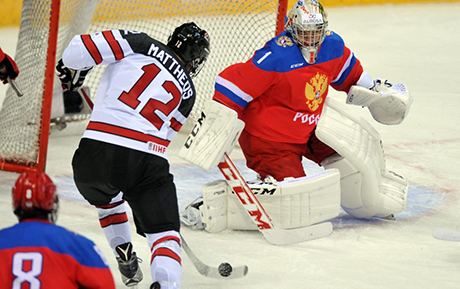 They were held goalless for 58 minutes, but Russia struck twice in the 59th to win 2-1 against Canada, the tournament´s eight-time defending champions. Stelio Mattheos scored early in the second period for Canada and Artyom Melnikov made a number of great saves to keep his team close before Ivan Chekhovich and Klim Kostin provided the Russians with the offence they needed.

Russia
2:1

Canada
Periods: 0:0, 0:1, 2:0
Russia: Melnikov (Raiko) – Samorukov, Lyachov, Galenyuk, Rubinchik (A), A. Alexeyev (A), Baranov, Anochovsky – Svechnikov, Lipanov, Chechovich – Kostin (C), Bitsadze, Y. Alexeyev – Toropchenko, Demin, Muranov – Šashkov, Marushev, Lobanov.
Canada: DiPietro (Scott) – Smart, Mitchell, Crete-Belzile, Phillips (C), Roberts, Brook, Meireles, Bouchard – Veleno, Rasussen, Tippett – Comtois, Suzuki, Entwistle – Strome, Bowers, McLeod – Bellerive, Studnicka, Mattheos.
Goals and assists: 59. Chekhovich (Rubinchik), 59. Kostin (Y. Alexeyev) – 22. Mattheos (Rasmussen, Crete-Belzile)

Penalties: 0:0. PP goals: 0:0. SH goals: 0:0.
Referees: J. Konc, D. Konc – Tvrdoň, Výleta.
Photogallery
Game report
For the second game in a row, Team Canada lost points in the last two minutes of regulation time, and are now in danger of missing the semi-finals as they sit in third place in the Bratislava Group with just two points from two games. That´s because Russia scored twice to beat them 2-1, despite winning 43-26 on the shots board.
The shots were 20-10 in the first period, but no goals were scored. The Canadians had a ton of chances in the early going, though, with Russian goalie Artyom Melnikov diving all over the place. The Canadians thought they´d scored in the 8th minute, but video replay was unable to show that the puck crossed the goal line in a scramble involving Stelio Mattheos and Jordy Bellrive. Michael DiPietro was also sharp when tested, particularly several chances by the dangerous Andrei Svechnikov.
Canada´s goal came early in the second period. A Russian penalty had just ended but they kept the pressure on. Antoine Crete-Belzile´s shot from the point was stopped by Melnikov, but Michael Rasmussen fed the rebound over to Stelio Mattheos at the side of the net, and he tucked it inside the post to open the scoring. They had chances to add to the lead, but were unable to beat Melnikov again.
The Russians got a couple of power plays in the last 10 minutes and momentum began to swing over to their side. They didn´t score on the first one but generated some good chances. On the second one, they tied the game with just 1:44 on the clock. Mark Rubinchik´s shot from the point hit Ivan Chekhovich in front and went in and out of the net so fast that there was confusion if it actually did. For the second time in the game, video replay was needed, and for the second time the result was in the Russians´ favour.
It looked like overtime was looming, but just 36 seconds later the Russians struck again. Klim Kostin and Yaroslav Alexeyev perfectly executed a give-and-go, with Kostin finishing it off to give Russia the late lead. And that was it. DiPietro went to the bench in the last minute but the Canadians were unable to equalize, putting their eight-year reign as Ivan Hlinka Memorial Cup champions in serious jeopardy.
Reactions
Sergei Golubovich (head coach of Team Russia): "The boys were a little bit nervous at the start and we were dealing with some injuries, but they worked through it and did it. We believed right to the end that we could win. You always have to believe. It´s a big win but you have to keep your emotions in control, because there´s always another game you have to be ready for."
Paul McFarland (head coach of Team Canada): "That´s the best game we´ve played since we´ve been over here. Unfortunately we made one or two mistakes in the last couple minutes – it´s a fine line between two very good teams but I thought we deserved better tonight. You´ve gotta put teams away, though. We had a number of great scoring chances but if you don´t put teams away they´re allowed to linger and do something at the end. That´s probably the lesson to learn from this game."
Year
Schedule
Short news
Pre-tournament games
28.6.2017
- Before the beginning of the 2017 Ivan Hlinka Memorial Cup, two pre-tournament games will be played on August 5. The Czech Republic will play the Canada in Břeclav, while Slovakia face USA. Coverage of these games will be available at
onlajny.com
.
Interested in history?
6.6.2017
- Do you know who won the Cup last year? Which team has won the most gold medals?
HERE
you can review the history.
Facebook MIH
5.6.2017
- Are you interested in what is going on at the Ivan Hlinka Memorial Cup? Keep an eye on
our facebook page
and stay up to date.
Twitter MIH
1.6.2017
- The Ivan Hlinka Memorial Cup also has a Twitter acount. You can find it
here
!
New partners
1.6.2017
- Ivan Hlinka Memorial Cup 2017 has a new partners - Hitachi and Czech Tourism.
Facebook
Partners