USA wins bronze in overtime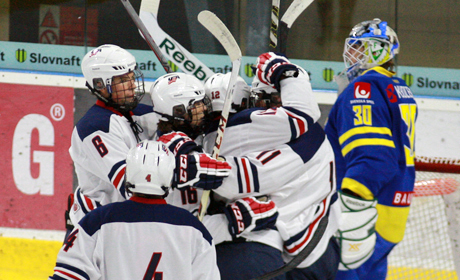 USA beat Sweden 5-4 in overtime to win bronze at 2014 Ivan Hlinka Memorial Cup. Sweden launched a late comeback in the third period and scored two goals in last ten minutes of regular time, but Dennis Yan of Team USA scored the winning goal at 64:03.

USA
5:4ot

Sweden
Periods: 3:2, 0:0, 1:2 - 1:0
USA: Jurusik (Sarthou) – Wilkie, Dello, Blaisdell, Cecconi, Olson, Gabriele, Young – Yan, Novak, Boeser – Jackson, Terry, Smith – Bachman, Moore, Swaney – Foley, Filipe, Laczynski
Sweden: Werner (Sandstrom) – Larsson, Kylington, L. Carlsson, Younan, G. Carlsson, Alftberg, Leman, Emanuelsson – Ahl, Ek Eriksson, Grundstrom – Dahlen, Olund, Looke – Magnusson, Asplund, Davidsson – Dahlstrom, Kalte, Erixon
Goals and assists: 11. Novak, 15. Foley (Laczynski, Filipe), 17. Terry (Jackson, Wilkie), 44. Bachman, 65. Yan (Wilkie, Dello) – 4. Erixon (Kylington, Dahlstrom), 11. Dahlen (Looke), 51. Olund (Younan), 59. Asplund (Eriksson, Davidsson).
Shots on goal: 33:46 (11:12, 13:12, 7:21 - 2:1).
Penalties: 6:3. PP goals: 1:2. SH goals: 1:0.
Referees: Müllner, Baluška - P. Šefčík, Junek. Attendance: 295.
Photogallery
Game report
In the battle for bronze, Sweden had the better start. At 3:43, Oliver Erixon took advantage of a 3-on-1 breakaway and after 10 minutes of play, Jonatan Dahlén slipped the puck past the goalie from a tight angle on a powerplay to make it 2-0 for Sweden.
USA responded quickly, though. Thomas Novak pulled one back with a deflection on the breakaway and Erik Foley equalized after a quick combination in 15th minute. And things got even better for Team USA at 16:30 when Terry Troy scored from close range on the first powerplay of his team.
Second period did not offer anything in terms of goal action despite many penalties and the score changed again early in the third period when Karch Bachman scored a shorthanded goal with a wristshot from the right crease. Yet Sweden managed to come back from a two goal deficit to tie the game. Linus Ölund pulled one back with ten minutes to go and Rasmus Asplund made it 4-4 with just 90 seconds to go.
Despite the late equalizer, USA eventually won the game and the bronze medal after Dennis Yan scored with a rebound at 64:03.
Year
Schedule
Short news
Saturday´s schedule
12.8.2016
- Bronze medal game: SWE vs RUS, 15:00 CET at Bratislava. Gold medal game: USA vs CZE, 17:30 CET (note time change) at Břeclav.
Friday´s schedule
11.8.2016
- Friday´s schedule is as follows: 14:00 - SVK vs SUI (7th-8th, at Bratislava), 15:30 - CAN vs FIN (5th-6th, at Břeclav) 17:30 - USA vs RUS (semi-final, at Bratislava), 19:00 - SWE vs CZE (semi-final, at Břeclav). All times CET.
Pre-tournament games
12.7.2016
- Before the beginning of the 2016 Ivan Hlinka Memorial Cup, two pre-tournament games will be played on August 6th. The Czech Republic will play the Canada in Břeclav (18:30), while Slovakia face USA at 17:00 in Piešťany. Coverage of these games will be available at onlajny.com!
Twitter MIH
9.7.2016
- The Ivan Hlinka Memorial Cup also has a Twitter acount. You can find it
here
!
New partner - CEZ Group
6.7.2016
- Ivan Hlinka Memorial Cup 2016 has a new partner - CEZ Group.
Facebook
Partners