Galvas OT winner sends home Czechs into Final!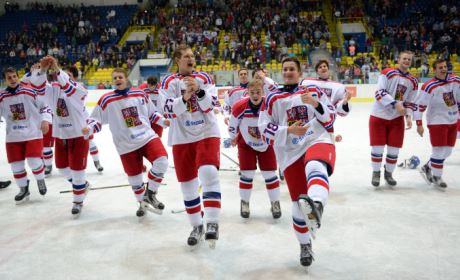 The semi-final game between the Czech Republic and Sweden offered a terrific fight for a spot in the gold medal game. The Czechs took the lead in the second period with Sweden coming right back. Jakub Skarek made some heroic saves to send the game into overtime, where Jakub Galvas finally decided it by scoring the winner.

Sweden
1:2ot

Czech Rep.
Periods: 0:0, 1:1, 0:0 - 0:1
Sweden: Eriksson – Brannstrom (A), Walfridsson, Bjorkman, Liljegren, Hedberg, Dahlin, Berg, Ringsby – Wemblom, Miketinac, Zetterlund – Hugg (C), Lundestrom, Elvenes – Sylvegard, Tjemstrom, Johansson – Weinlund, Bemstrom, Aterius.
Czech Rep.: Skarek – Kvasnicka, Mikyska, Galvas, Salda, Bednar, Kral, Bukac – Svoboda, Necas (C), Kaut – Kern (A), Chytil, Zadina – Machala (A), Kondelik, Safin – Skvrne, Hladonik, Dvorak.
Goals and assists: 31. Dahlin (Bemstrom) – 24. Zadina (Necas), 70. Galvas (Zadina)
Shots on goal: 42:36 (10:11, 11:8, 17:10 - 4:7).
Penalties: 7:3, plus Brannstrom (SWE) 5+20, sekani . PP goals: 0:0. SH goals: 0:0.
Referees: Čech, Hribik – Gebauer, Špůr. Attendance: 1968.
Photogallery
Game report
The Czechs had a good chance in the beginning with an early power play for Aterius' tripping penalty, but Eriksson kept his goal closed for the moment.
In 8th minute, the home defence made a bad mistake behind Skarek's goal and Wennlund with Bemström suddenly appeared with puck on the crease. Skarek was prepared.
Then even the Czech goalie was beaten with 5 mins to go in the first period, but Bednar made an incredible save for him by standing on the right place and deflecting Lundeström's attempt out of the open goal.
The Swedes had a power play soon after the first intermission, but Czech penalty-killing was amazing and Filip Zadina put a cherry on top of that cake with a breakaway goal right after his team went back at full strength.
Walfridsson could equalise straight away, when he went one-on-one with Skarek, but Swedish d-man couldn't put the puck behind him.
That was eventually accomplished by Rasmus Dahlin with a hidden snap shot from behind Radim Salda's legs, but then Skarek robbed also Wennlund for a goal and possible 2-1 lead with another great save in face-to-face situation.
Skarek was man of the game and he only crowned his performance with couple more saves in the third. At first he stopped Sylvegärd in a great opportunity, then Salda helped him on a goal line when Bemström went around the net.
No more goals in the regulation let the game slip into overtime. Both teams had some solid chances, Skarek made another brilliant save with his pad so Jakub Galvas could score the golden goal in the end. With just 22 seconds to go in the OT, the Czech defenseman got a good pass from behind the goal and scored with a shot on far post.
The Czechs can thank Skarek for the chance to play for gold, Sweden will have to settle with a bronze medal game.
Year
Schedule
Short news
Pre-tournament games
28.6.2017
- Before the beginning of the 2017 Ivan Hlinka Memorial Cup, two pre-tournament games will be played on August 5. The Czech Republic will play the Canada in Břeclav, while Slovakia face USA. Coverage of these games will be available at
onlajny.com
.
Interested in history?
6.6.2017
- Do you know who won the Cup last year? Which team has won the most gold medals?
HERE
you can review the history.
Facebook MIH
5.6.2017
- Are you interested in what is going on at the Ivan Hlinka Memorial Cup? Keep an eye on
our facebook page
and stay up to date.
Twitter MIH
1.6.2017
- The Ivan Hlinka Memorial Cup also has a Twitter acount. You can find it
here
!
New partners
1.6.2017
- Ivan Hlinka Memorial Cup 2017 has a new partners - Hitachi and Czech Tourism.
Facebook
Partners