Czechs win first gold at Ivan Hlinka Memorial!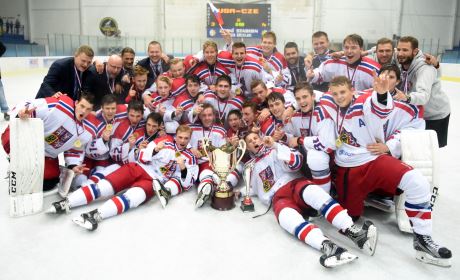 They´ve been co-hosting the tournament for a long time now, but in 2016 the Czech Republic finally struck gold at the Ivan Hlinka Memorial Cup with a 4-3 win in the final against the United States. Filip Zadina scored twice and Ondrej Machala scored the winning goal on the power play with 7:37 left to play. Mick Messner had a goal and an assist for the silver Americans.

USA
3:4

Czech Rep.
Periods: 1:1, 2:2, 0:1
USA: Primeau – T. Miller, Inamoto, Walsh, Anderson, Keane, Phillips, Brickey, Mirageas – Pratt, Chmelevski, Lodnia – Pastujov, Poehling, Messner – McManus, Dovorany, Kastelic – Dougherty, M. Miller, Seitz.
Czech Rep.: Skarek – Kvasnicka, Mikyska, Galvas, Salda, Bednar, Kral, Bukac – Svoboda, Necas, Kaut – Kern, Hladonik, Zadina – Machala, Kondelik, Safin – Chytil, Skvrne, Dvorak – Novak.
Goals and assists: 18. Chmelevski (Phillips), 22. Messner (Walsh, Poehling), 32. Miller (Messner) – 10. Zadina (Hladonik, Kern), 31. Chytil (Kvasnicka), 36. Zadina (Kern, Hladonik), 53. Machala (Galvas)
Shots on goal: 26:33 (11:7, 13:11, 2:15).
Penalties: 3:1, plus Poehling (USA) 5+20, spearing. PP goals: 1:1. SH goals: 0:0.
Referees: Hribik, Jeřábek – Gebauer, Špůr.. Attendance: 2325.
Photogallery
Game report
For the first time since 2007, the Ivan Hlinka Memorial Cup Final did not include Canada, but it featured two teams that had each made the Final once in the last three years – Team USA, who won the tournament back in 2003, and Team Czech Republic, who were looking for their first win. The two teams had met in the group stage, with the Americans winning 4-2. After some lean years, the fans in Breclav have become used to success in this tournament recently – bronze in 2013 and silver in 2014 – and 2325 of them came out and created a great atmosphere, hoping to finally see that historic golden victory.
They didn´t have to wait long to get excited, with Jaroslav Dvorak very nearly scoring five minutes in, with US goalie Cayden Primeau sliding across to rob him. But almost halfway through the opening period the building erupted when Fillip Zadina, the semi-final overtime hero, beat Primeau with a backhander over the glove from right in front.
The teams traded chances with both Primeau and Jakub Skarek making big saves, the crowd oohing and aahing each time, but late in the period the dangerous American power play went to work and it didn´t take them long to tie the score – just 18 seconds for Sasha Chmelevski to put in his tournament-leading fifth goal from a sharp angle.
The middle period was a wild, back-and-forth affair with both teams scoring twice. Just over a minute in it was Mick Messner on a rebound giving the Americans their first lead of the game. Just past the game´s midpoint it was tied again when Filip Chytil finished a Czech rush with a nice wrist shot, but just 27 seconds later the Americans were back in the lead and Messner was part of it again, this time sending a perfect pass to Tommy Miller for a one-timer that beat Skarek short-side. But after the teams traded more chances, Zadina struck again from in close before the end of the period and it was 3-3 after 40 minutes.
The third period belonged to the Czechs, who out-shot the Americans 15-2, which was mostly due to a five-minute power play, but Primeau was nearly unbeatable. Zadina almost completed his hat-trick midway through the period when he tried to deke Primeau but was denied by the American goalie. Just seconds later, however, the game was turned on its head when Ryan Poehling was assessed a major penalty and game misconduct for spearing. The American penalty-killing did a good job for the most part, but they couldn´t stop everything. About halfway through the major, Jacob Galvas found Ondrej Machala at the top of the slot and his one-timer blew through everybody with 7:37 on the clock.
After killing off the rest of the penalty, the Americans tried to go to the attack but the Czechs defended furiously, blocking shots and creating too much traffic for the Americans to penetrate. The seconds ticked down and as the siren sounded the players poured off the bench, having brought Ivan Hlinka´s Cup home.
Reactions
Clark Donatelli (head coach of Team USA):
"I thought it was a real good game. I thought the Czechs played really well, they worked hard and our guys battled right down to the last little bit. I thought both teams competed – a lot of good players out there – and we didn´t get the bounces tonight and the Czechs did. We´re disappointed but we went hard from start to finish. We´ve got a good mix of players, some future NHLers who have good careers ahead of them and we won the silver medal, and we´re really proud of that."
Year
Schedule
Short news
Pre-tournament games
28.6.2017
- Before the beginning of the 2017 Ivan Hlinka Memorial Cup, two pre-tournament games will be played on August 5. The Czech Republic will play the Canada in Břeclav, while Slovakia face USA. Coverage of these games will be available at
onlajny.com
.
Interested in history?
6.6.2017
- Do you know who won the Cup last year? Which team has won the most gold medals?
HERE
you can review the history.
Facebook MIH
5.6.2017
- Are you interested in what is going on at the Ivan Hlinka Memorial Cup? Keep an eye on
our facebook page
and stay up to date.
Twitter MIH
1.6.2017
- The Ivan Hlinka Memorial Cup also has a Twitter acount. You can find it
here
!
New partners
1.6.2017
- Ivan Hlinka Memorial Cup 2017 has a new partners - Hitachi and Czech Tourism.
Facebook
Partners