Canada keeps medal hopes alive with win over Sweden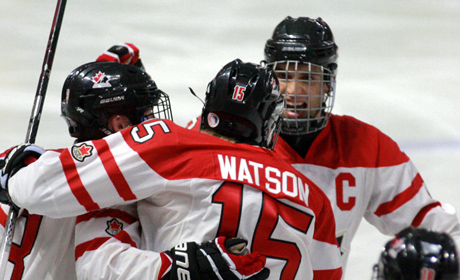 With only two points from their first two games, Team Canada was in an unfamiliarly tough position heading into their last game of the group stage against Sweden, but they kept their semi-final hopes alive with a 4-1 win. They were heavily aided by two shorthanded goals from Maxime Comtois late in the first period.

Canada
4:1

Sweden
Periods: 3:1, 0:0, 1:0
Canada: DiPietro (Scott) – Crete-Belzile (A), Phillips (C), Smart, Mitchell, Roberts, Bouchard, Meireles, Brook – Strome, Bowers, Tippett (A) – Comtois, Suzuki, Entwistle – Veleno, Rasmussen, McLeod – Bellerive, Studnicka, Mattheos
Sweden: Eriksson (Soderblom) – Liljegren, Berg, Walfridsson, Brannstrom (A), Dahlin, Hedberg, Sylvergård, Bjorkman – Elvenes, Lundestrom, Hugg (C) – Zetterlund, Miketinac, Wernblom – Johansson, Tjernstrom, Wennlund – Ringsby, Bemstrom, Aterius
Goals and assists: 5. Bowers (Roberts), 19. Comtois, 20. Comtois, 45. Strome (Rasmussen, Phillips) – 17. Brannstrom (Zetterlund)

Penalties: 8:6. PP goals: 1:1. SH goals: 2:0.
Referees: D. Konc, Novák – Tvrdoň, Kacej. Attendance: 645.
Photogallery
Game report
In the first two games against Slovakia and Russia, Canada opened the scoring and had chances to widen their lead but failed, and ended up giving away points in the dying minutes. They were more opportunistic against Sweden, out-scoring them 3-1 in the first period.
They opened the scoring at 4:35 trying to take advantage of a five-second power play after the teams had been playing 4-on-4. Olle Eriksson stopped a shot by Elijah Roberts but was out of position for the rebound and Shane Bowers put it in one second after the Swedish penalty had ended.
"It´s my first goal of the tournament, so it´s good to get that under my belt. I think it helped the team – we were really going after that." Bowers said after the game. "Going into the game we wanted to bury our chances and that´s what we did, so we´re all feeling pretty good about that right now."
Later in the period, Canada ran into a string of five straight penalties and three goals were scored – one on the power play by Sweden but then two by Canada shorthanded. With a 5-on-3 advantage, Fabian Zetterlund set up a one-time slapper from Erik Brännström, which hit a Canadian stick along the way and beat Michael DiPietro to tie the score.
A minute and a half later, with Canada still one man short, Maxime Comtois took advantage of a turnover in the neutral zone and skated in alone on Olle Eriksson, sliding the puck between the Swedish goalie´s legs to give the lead back to Canada. Two penalties later the Canadians were two men down again, and once again Comtois jumped on a Swedish turnover, once again skating in all alone on Eriksson, this time beating him with a backhand deke.
Over the final 40 minutes Canada kept the Swedish chances to a minimum, out-shooting them 20-9. Comtois had a couple of decent chances in the second period to complete his hat-trick, hitting Eriksson in the shoulder with a high backhand on one attempt and just sliding the puck wide of the far post on another. Bowers also had a great chance at a second goal but he was denied by Eriksson right on the doorstep. DiPietro was solid the rest of the way on the few times the Swedes did manage to penetrate the Canadian defence.
The Canadians added to their lead in the 45th minute on the power play, with captain Markus Phillips trying to hit Michael Rasmussen with a breakaway pass but missing. However, Rasmussen hustled to negate the icing, got the puck behind the net and fed to Matthew Strome in front, who finished the play and rounded out the scoring.
The win means that Canada´s semi-final hopes are still alive, but they have to hope for a Slovakian win over Russia in the late game in Bratislava. As for Sweden, they already had first place in the group wrapped up before the game, and will face either the Czech Republic or the United States in the semi-finals.
Reactions
Paul McFarland (head coach of Team Canada): "I think everyone was looking to see how we´d respond after that tough loss yesterday. I give our guys a lot of credit for how hard they played – they were resilient and really came together as a team. Every game we´ve played better and better. We had some unlucky bounces in the first two games – 40 shots both games but just didn´t get the bounces. Today we got the bounces. We got a couple of breaks shorthanded there and Max really bore down and put them away. We talked about that before the game, about bearing down and finishing our chances. We´ve done all we can today. Now we just have to hope that Slovakia does us a favour."
Bendelin Torgny (head coach of Team Sweden): "This game did not go the way I hoped. I think 5-on-5 it was a very even game, but special teams were the difference. We created some chances on the power play but gave them chances too. Then in the last two periods, we did everything we could to create chances but Canada played a really solid defensive game. I´m happy with our effort, though, as I have been for the whole tournament. I´m really pleased that we managed to win the group after two games – we were helped by the fact that the other teams in our group all beat each other – but we wanted to win this one too."
Year
Schedule
Short news
Pre-tournament games
28.6.2017
- Before the beginning of the 2017 Ivan Hlinka Memorial Cup, two pre-tournament games will be played on August 5. The Czech Republic will play the Canada in Břeclav, while Slovakia face USA. Coverage of these games will be available at
onlajny.com
.
Interested in history?
6.6.2017
- Do you know who won the Cup last year? Which team has won the most gold medals?
HERE
you can review the history.
Facebook MIH
5.6.2017
- Are you interested in what is going on at the Ivan Hlinka Memorial Cup? Keep an eye on
our facebook page
and stay up to date.
Twitter MIH
1.6.2017
- The Ivan Hlinka Memorial Cup also has a Twitter acount. You can find it
here
!
New partners
1.6.2017
- Ivan Hlinka Memorial Cup 2017 has a new partners - Hitachi and Czech Tourism.
Facebook
Partners