Another big win from the home team!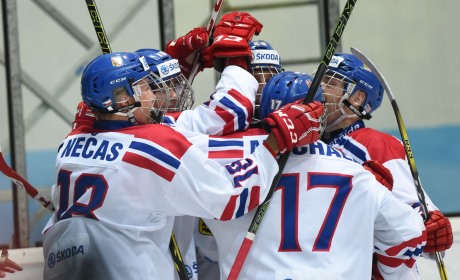 After a high victory 6:1 over Swiss team, Czech players accomplished another great success by beating Team Finland 5:3 and proving that the tournament meets them in a great shape.

Czech Rep.
5:3

Finland
Periods: 1:1, 2:1, 2:1
Czech Rep.: Skarek – Kvasnicka, Mikyska, Galvas, Salda, Bednar, Kral, Bukac – Svoboda, Necas, Kaut – Kern, Hladonik, Zadina – Machala, Kondelik, Safin – Chytil, Skvrne, Dvorak – Novak.
Finland: Luukkonen – Isizugo, Vaakanainen, Teravainen, Vesterinen, Rasanen, Utunen, Vitasalo, Anttalainen – Nyman, Heponiemi, Moilanen – Virtanen, Talvitie, Parkkari – Pajuniemi, Koskenkorva, Engberg – Kerkkanen, Hartikainen, Seppala.
Goals and assists: 15. Safin (Necas, Kaut), 30. Zadina (Kern, Hladonik), 31. Galvas (Machala, Kondelik), 42. Kaut (Chytil, Kern), 60. Necas (Zadina) – 16. Moilanen (Nyman), 25. Moilanen (Heponiemi, Talvitie), 55. Antalainen (Nyman)
Shots on goal: 34:30 (16:9, 13:14, 5:7).
Penalties: 4:8. PP goals: 0:1. SH goals: 0:1.
Referees: Pražák, Pešina – Brejcha, Suchánek. Attendance: 1794.
Photogallery
Game report
The game was opened by a great chance by Teravainen who found the puck after few bounces and sent it without hesitation on Skarek who performed even greater safe! That was for a long time the only 'wow' moment because both teams focused themselves on proper defense. Czech players opened the score later in the 15th minute when Finnish team killed Koskenkorva's minor penalty however but the player did not manage to skate even to the zone to help his teammates and
Ostap Safin
skated from the right circle straight to the net and fired. It worked perfectly.
The Czech lead did not last long – after 30 seconds Nyman won a fight for a puck deeply in the zone, passed it to Sami Moilanen who fired from the first and tied the game. Finnish players stole the leading into their possession in the 25th minute as a great combination of a whole five ended with the puck on Moilanen stick and he again cleaned it up into the net.
Czech players took their advantage from the home rink and turned the game with 3 goals in 12 minutes. Firstly it was Filip Zadina who did not give up his efforts to reach the puck in the zone, left his defense-man behind him and performed an outstanding backhand deke. 83 seconds later Luukkonen did not catch the puck after angle shot so Jakub Galvas sent it to the empty net. The game-winning goal came to Jaroslav Dvorak's account as it was reached only 1 minute after the 3rd period started.
Team Finland tried their best, even cut the Czech lead in half when 5 minutes before the end Aleksi Anttalainen proved his will to score goal as he was the first who found the puck in the scramble and sent it with a backhand to the opponent's net. The final touch to the score of this game was made by home captain Martin Necas who in the very end sent the puck to the empty net.
Year
Schedule
Short news
Saturday´s schedule
12.8.2016
- Bronze medal game: SWE vs RUS, 15:00 CET at Bratislava. Gold medal game: USA vs CZE, 17:30 CET (note time change) at Břeclav.
Friday´s schedule
11.8.2016
- Friday´s schedule is as follows: 14:00 - SVK vs SUI (7th-8th, at Bratislava), 15:30 - CAN vs FIN (5th-6th, at Břeclav) 17:30 - USA vs RUS (semi-final, at Bratislava), 19:00 - SWE vs CZE (semi-final, at Břeclav). All times CET.
Pre-tournament games
12.7.2016
- Before the beginning of the 2016 Ivan Hlinka Memorial Cup, two pre-tournament games will be played on August 6th. The Czech Republic will play the Canada in Břeclav (18:30), while Slovakia face USA at 17:00 in Piešťany. Coverage of these games will be available at onlajny.com!
Twitter MIH
9.7.2016
- The Ivan Hlinka Memorial Cup also has a Twitter acount. You can find it
here
!
New partner - CEZ Group
6.7.2016
- Ivan Hlinka Memorial Cup 2016 has a new partner - CEZ Group.
Facebook
Partners