Czechs had no problems with Switzerland on day 1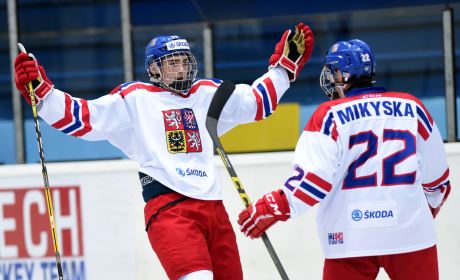 The Czech Republic started the Ivan Hlinka Memorial Cup with a big win over Switzerland. The Swiss took the lead early, but couldn't hold it for long. In the end, they suffered a harsh 6-1 defeat from the hosts, who took the game under control on a five-minute power play in the first period.

Czech Rep.
6:1

Switzerland
Periods: 4:1, 1:0, 1:0
Czech Rep.: Skarek – Kvasnicka, Mikyska, Galvas, Salda, Bednar, Kral, Bukac – Svoboda, Necas, Kaut – Kern, Hladonik, Zadina – Machala, Kondelik, Safin – Chytil, Skvrne, Dvorak – Novak
Switzerland: Zaetta – Greisser, Le Coultre, Gross, Matewa, Zeiter, Schupbach, Wuthrich – Reymondin, Kurashev, Hischier – Simic, Nyffeler, Sigrist – Muller, Dopfner, Lehmann – Tanner, Eggenberger, Kobler – Leuenberger
Goals and assists: 9. Svoboda (Salda), 15. Zadina (Galvas), 18. Svoboda (Necas, Kvasnicka), 19. Safin (Machala, Galvas), 24. Necas (Kaut), 44. Chytil – 2. Sigrist (Muller)
Shots on goal: 39:16 (17:4, 12:9, 10:3).
Penalties: 3:6, plus 5 + OK Tanner. PP goals: 2:0. SH goals: 0:0.
Referees: Čech, Hribik – Ondráček, Svoboda. Attendance: 1522.
Photogallery
Game report
It was a terrific start for Switzerland as Justin Sigrist scored already after 79 seconds into the game. His backhanded dump-in from the corner surprised Skarek and found its way into the Czech goal.
Home team didn't catch the pace and early after the first goal, Simic appeared alone on the crease. However, Skarek managed to make the stop this time.
On the other side, Zaetta didn't catch Salda's attempt from the right wing and only moved the puck towards Matyáš Svoboda who quickly put it behind him for the equalizer.
Then Ramon Tanner got a game misconduct and Czechs turned the game around in the following five-minutes power play. At first Filip Zadina found an open net after some great one-two crossing passes exchanged with Galvas.
Shortly after Zadina's goal, Kurashev got a minor penalty and the Swiss went down to three men, which only resulted in David Svoboda's goal tap-in on Nečas' one timer.
Already with the two-goal lead and just seconds after end to the long penalty, the Czechs scored once more. Ostap Safin got a great pass across the crease from Galvas and roofed the puck above Zaetta's glove.
Both goalies showed some great saves after the break, so the scoreline didn't change much. Martina Necas circled the goal all the way into the spot between circles to snap it past Zaetta. That was still early in the second period, but then both goalies shut the door for the rest of it.
The summary of the last part looks pretty much the same. The Czechs scored again after three minutes played on a massive error by Kobler. The Swiss defenseman went in front of his own goal, but couldn't get the puck away from Filip Chytil's aggressive fore-checking. Chytil then fortunately poked the puck right into the goal.
The Czechs controlled the rest of the game and got their first win at the tournament.
Year
Schedule
Short news
Saturday´s schedule
12.8.2016
- Bronze medal game: SWE vs RUS, 15:00 CET at Bratislava. Gold medal game: USA vs CZE, 17:30 CET (note time change) at Břeclav.
Friday´s schedule
11.8.2016
- Friday´s schedule is as follows: 14:00 - SVK vs SUI (7th-8th, at Bratislava), 15:30 - CAN vs FIN (5th-6th, at Břeclav) 17:30 - USA vs RUS (semi-final, at Bratislava), 19:00 - SWE vs CZE (semi-final, at Břeclav). All times CET.
Pre-tournament games
12.7.2016
- Before the beginning of the 2016 Ivan Hlinka Memorial Cup, two pre-tournament games will be played on August 6th. The Czech Republic will play the Canada in Břeclav (18:30), while Slovakia face USA at 17:00 in Piešťany. Coverage of these games will be available at onlajny.com!
Twitter MIH
9.7.2016
- The Ivan Hlinka Memorial Cup also has a Twitter acount. You can find it
here
!
New partner - CEZ Group
6.7.2016
- Ivan Hlinka Memorial Cup 2016 has a new partner - CEZ Group.
Facebook
Partners