Swedes open 2016 Hlinka with win over Russia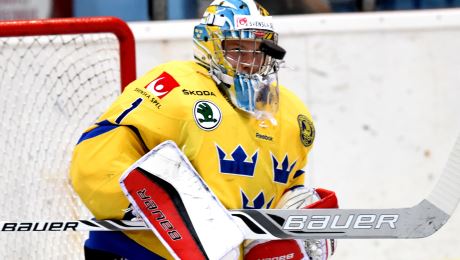 The Swedes got one goal in each of the first two periods to build their lead, then traded goals with the Russians in the third for the 3-1 win. Fabian Zetterlund, Marcus Sylvegard and Rickard Hugg scored the Swedish goals while Olle Eriksson Ek stopped 34 of 35 shots in goal. Nikita Anokhovsky scored the lone Russian goal.

Sweden
3:1

Russia
Periods: 1:0, 1:0, 1:1
Sweden: Eriksson (Söderblom) – Liliegren, Björkman, Walfridsson, Brännström (A), Dahlin, Hedberg, Wennlund, Bemström – Elvenes, Lundeström, Hugg (C) – Zetterlund, Miketinac, Wernblom – Johansson, Tjernström, Sylvergård – Ringsby, Bemström, Aterius
Russia: Rayko (Melnikov) – Samorukov, Lyachov, Galenyuk, Rubinchik, A. Alexeyev, Kalabushkin, Demin, Baranov – Svechnikov, Lipanov, Chekhovich – Kostin, Bitsadze, Y. Alexeyev – Toropchenko, Anochovsky, Muranov – Shashkov, Marushev, Lobanov.
Goals and assists: 14. Zetterlund (Miketinac), 33. Sylvegard (Dahlin), 48. Hugg (Elvenes) – 45. Ankhovsky (Rubinchik)
Shots on goal: 28:35 (5:12, 13:9, 10:14).
Penalties: 3:3. PP goals: 1:0. SH goals: 0:0.
Referees: Goga, Kubuš – Výleta, Tvrdoň. Attendance: 512.
Photogallery
Game report
In the opening 20 minutes the Russians held the edge in terms of puck possession and zone time, and outshot the Swedes 12-5, but very few of those shots tested Ollie Eriksson Ek, who would be counted on later to bail his team out. The best chances to score all went to the Swedes – in particular, Kalle Miketinac hit the goalpost, then later he set up the game´s opening goal by feeding Fabian Zetterlund, who beat Dmitri Raiko with a wrister over the glove.
The Swedes continued getting the chances early in the second, although Eriksson Ek was called upon for the first time to make a big save when he denied Andrei Svechnikov on a 2-on-1. Marcus Silvegard made it 2-0 on the power play in the 33rd minute when his wrister from the top of the circle hit Raiko and trickled over the goal line. Later in the period, on another Swedish power play, Mikhail Bitsadze got a shorthanded chance and Eriksson Ek was called upon again.
Svechnikov got two more great chances early in the third but Eriksson Ek continued to come up big. Finally the Russians got on the board just after a power play ended in the 45th minute. Off a faceoff in the Swedish zone with four seconds left in the advantage, Nikita Anokhovsky converted Mark Rubinchik´s point shot. However, the Swedes´ two-goal lead was restored just 150 seconds later when Rickard Hugg´s slapper went off the crossbar and in.
The Swedes got chances to increase their lead, but Raiko was impressive with the glove on a few occasions to give his team a fighting chance. However, they were unable to generate any offence in the dying minutes, and the Swedes held on for the 3-1 win.
Reactions
Bendelin Torgny (head coach of Team Sweden): "I´m very happy with the result and the two good periods we played. The last part of the second period we really didn´t play well, though. That´s when the Russians got some really good scoring chances. Between the second and third periods I was really on the team because we got away from our game. We really have to thank our goalie because he won the game for us."
Sergei Golubovich (head coach of Team Russia): "The main reason we lost is we didn´t score on enough of our chances. Their goalie was good, no question, but that´s something we´ll try to work on for next time. That is typical of summer hockey. Now coming up is Canada, who have been very successful in this tournament over the years, but we will try to win it."
Year
Schedule
Short news
Saturday´s schedule
12.8.2016
- Bronze medal game: SWE vs RUS, 15:00 CET at Bratislava. Gold medal game: USA vs CZE, 17:30 CET (note time change) at Břeclav.
Friday´s schedule
11.8.2016
- Friday´s schedule is as follows: 14:00 - SVK vs SUI (7th-8th, at Bratislava), 15:30 - CAN vs FIN (5th-6th, at Břeclav) 17:30 - USA vs RUS (semi-final, at Bratislava), 19:00 - SWE vs CZE (semi-final, at Břeclav). All times CET.
Pre-tournament games
12.7.2016
- Before the beginning of the 2016 Ivan Hlinka Memorial Cup, two pre-tournament games will be played on August 6th. The Czech Republic will play the Canada in Břeclav (18:30), while Slovakia face USA at 17:00 in Piešťany. Coverage of these games will be available at onlajny.com!
Twitter MIH
9.7.2016
- The Ivan Hlinka Memorial Cup also has a Twitter acount. You can find it
here
!
New partner - CEZ Group
6.7.2016
- Ivan Hlinka Memorial Cup 2016 has a new partner - CEZ Group.
Facebook
Partners