US coach Donatelli: "We won the silver medal, and we´re really proud of that"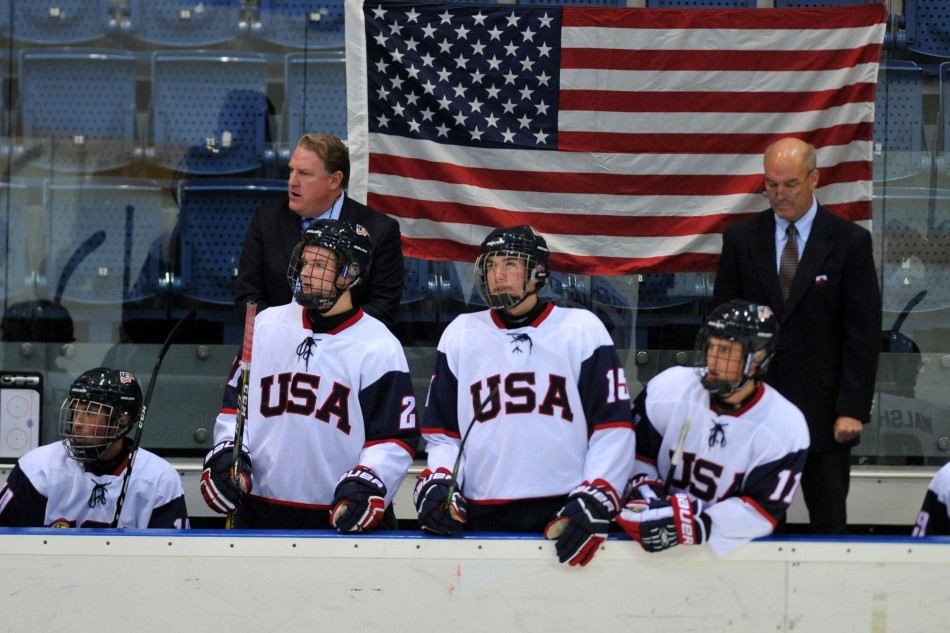 The silver-medal winning team of the 2016 Ivan Hlinka Memorial Cup was the United States – a team that won the first four games it played before losing by a single goal to the host Czechs in the Final. The team was coached by former NHLer Clark Donatelli (pictured behind the bench, on the left), who is happy with his team despite the loss. "I thought as a team we played exceptionally well and our goaltenders were really good and I´m just proud of them all."
Your team lost the final 4-3. What did you think of it?
"I thought it was a real good game. I thought the Czechs played really well, they worked hard and our guys battled right down to the last little bit. I thought both teams competed – a lot of good players out there – and we didn´t get the bounces tonight and the Czechs did. We´re disappointed but we went hard from start to finish. We´ve got a good mix of players, some future NHLers who have good careers ahead of them and we won the silver medal, and we´re really proud of that."
The score was 3-3 in the third period and the winning goal was scored on a five-minute power play. What did you think of that situation?
"It is what it is. We had a game plan, we executed it and, hey, penalties are penalties. We teach the kids to control what we can control and that´s one of those things we can´t control. I thought we almost had it killed off – our penalty-killing´s been good all tournament, but the Czechs are a good team, they´re well-coached, and they played extremely well tonight."
You played the Czechs here a few days ago in the group stage and beat them 4-2. Was this a similar kind of game or was it different in some way?
"Yeah, it was tight. I mean, it was 4-2 but it could have gone either way and this one tonight could have too. Maybe if we played them again tomorrow we´d come out on top. But the Czechs are a great team and they played a really good game tonight."
Your team has played a lot of hockey this week and came off an emotional semi-final win in Bratislava last night. Did that have an affect on this game?
"With both teams I think you saw a little fatigue – it was the sixth game in eight days and you´ve gotta play the hand you´re dealt – but still the kids played at a pretty good pace and that´s a tribute to both teams. The game was up and down and I thought it was a fast game."
At the IIHF U18 World Championships the USA is represented by the National Development Team, and they often win the gold medal. What is the difference between that and this group?
"In the National Development Team, they pick guys to commit for two years and a lot can change in those two years. Some guys grow and develop at different rates and you see guys that might get overlooked one year and the next year they´re real good players. If they were to pick that national team now they´d probably take some of the guys from this team, and in this 1999 birth year there´s a lot of good players. This group that came over here, they´re coachable, great kids. There´s a lot of character in that room and we´re really proud of them."
Do you think these players were out to prove anything? To show they should have been picked for that team?
"Well you´re always out to prove something, every time you play. And when you pull on that Team USA jersey, whether it´s in this tournament or the World Championships or something else, you´re playing for USA Hockey, for your country, for your family, for yourself. As I said, if they got to pick the National Development Team again, maybe they´d pick some of these guys, but wherever you´re playing you play to win but you also play the right way, and you conduct yourself in the right manner and these guys here did that for sure."
Were you surprised by the play of anybody here? Did anybody exceed your expectations?
"No, I knew we had a good team coming in. We had 180 guys to pick from so all the guys we picked, we knew they were good and we had high expectations and confidence in all of them. If we didn´t, we wouldn´t have picked them. The guys I thought would play really well, played really well, and I thought as a team we played exceptionally well and our goaltenders were really good and I´m just proud of them all."
Short news
Saturday´s schedule
12.8.2016
- Bronze medal game: SWE vs RUS, 15:00 CET at Bratislava. Gold medal game: USA vs CZE, 17:30 CET (note time change) at Břeclav.
Friday´s schedule
11.8.2016
- Friday´s schedule is as follows: 14:00 - SVK vs SUI (7th-8th, at Bratislava), 15:30 - CAN vs FIN (5th-6th, at Břeclav) 17:30 - USA vs RUS (semi-final, at Bratislava), 19:00 - SWE vs CZE (semi-final, at Břeclav). All times CET.
Pre-tournament games
12.7.2016
- Before the beginning of the 2016 Ivan Hlinka Memorial Cup, two pre-tournament games will be played on August 6th. The Czech Republic will play the Canada in Břeclav (18:30), while Slovakia face USA at 17:00 in Piešťany. Coverage of these games will be available at onlajny.com!
Twitter MIH
9.7.2016
- The Ivan Hlinka Memorial Cup also has a Twitter acount. You can find it
here
!
New partner - CEZ Group
6.7.2016
- Ivan Hlinka Memorial Cup 2016 has a new partner - CEZ Group.
Facebook
Partners