The end result is what really matters for Cayden Primeau, coached by dad Keith in Philly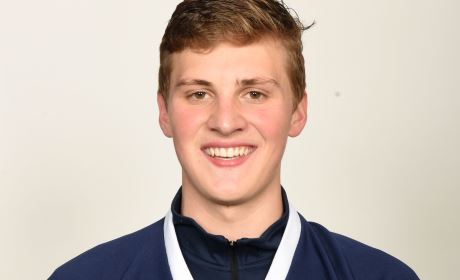 The American under-18 national team has dominated the group stage of the Ivan Hlinka Memorial. With eight points in three games, the group coached by Clark Donatelli is set to battle against Russia in the semi-finals. One of the young American heroes is goaltender Cayden Primeau, who has played in two games and recorded both regulation time wins for Team USA.
Both the Swiss and Czech teams gave the Americans a tough battle, though.
"It was a hard-fought battle. We knew the game against the Czech Republic was really important because it decided who won our division. Both games were battles. I wasn't feeling very good in the game against Switzerland, but it was a little bit better in the next game. I am trying to progress every game," said Primeau, who likes the concept of the tournament. "It's a great chance to see where you stand against the best of the best and we are proving that we are the best of the best. We have to keep going from here."
Primeau comes from a hockey family. Both his brothers play hockey and his dad Keith was an NHL star with 909 games under his belt. Given his family background, there was no other option than hockey for Cayden. "I didn't have a decision, my dad forced me, but i wouldn't change it for the world. I love it!"
Along with his dad, both of Primeau's brothers, Chayse and Corey, are forwards.
"My dad wouldn't let me become a goaltender at first, so it took some crying when I was younger. I wanted to be the guy who would help the team win, make a big save, change the momentum. He finally let me and now he loves watching me," he said.
Another interesting fact about one of the highest-ranked goalies of the next year's draft class is that he chose to play for the U.S. despite the fact that his father played for Canada - even at the Olympics and the World Cup. "I was born in the U.S., so that is what drove me to pick the country over Canada," said the Voorhees, New Jersey native.
Does his dad talk with Cayden about his game? "Hockey is hockey but goalie and forward are really different. He just tries to tell me to always do my best, work hard and be dedicated."
Primeau is aware of the draft's importance, but the ultimate goal for him is obviously to reach the NHL. "I would like to be drafted but it's not the end of the world. It's just a snapshot, it doesn't mean that people can't catch up after the draft. The end result is what I really care about," Primeau commented after the game against the Czech Republic.
Unlike some of his teammates, the 17-year-old goaltender didn't opt for playing major junior hockey in Canada. Instead, Primeau has committed to Northeastern University from the 2017-18 season.
"My parents really instilled me to have a backup because hockey doesn't always work out. There's not a lot of positions for it and I think that as a goalie in the NCAA, you get to develop, be in school, work out every day and get shots from older guys. Like I said, the end result is what matters the most."
Let's see what the end result will ultimately be for Cayden Primeau. Will he reach stardom like his father?
Short news
Saturday´s schedule
12.8.2016
- Bronze medal game: SWE vs RUS, 15:00 CET at Bratislava. Gold medal game: USA vs CZE, 17:30 CET (note time change) at Břeclav.
Friday´s schedule
11.8.2016
- Friday´s schedule is as follows: 14:00 - SVK vs SUI (7th-8th, at Bratislava), 15:30 - CAN vs FIN (5th-6th, at Břeclav) 17:30 - USA vs RUS (semi-final, at Bratislava), 19:00 - SWE vs CZE (semi-final, at Břeclav). All times CET.
Pre-tournament games
12.7.2016
- Before the beginning of the 2016 Ivan Hlinka Memorial Cup, two pre-tournament games will be played on August 6th. The Czech Republic will play the Canada in Břeclav (18:30), while Slovakia face USA at 17:00 in Piešťany. Coverage of these games will be available at onlajny.com!
Twitter MIH
9.7.2016
- The Ivan Hlinka Memorial Cup also has a Twitter acount. You can find it
here
!
New partner - CEZ Group
6.7.2016
- Ivan Hlinka Memorial Cup 2016 has a new partner - CEZ Group.
Facebook
Partners