Maximillian Pajpach on blunt skates and 53 saves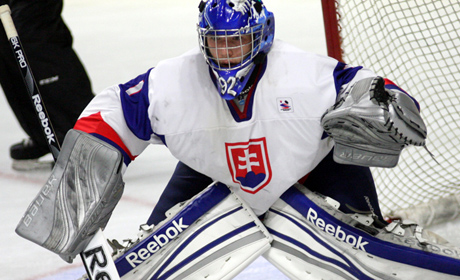 Despite recording a loss in their opening game of the 2013 Ivan Hlinka Memorial Cup, Slovak goaltender Maximillián Pajpach was in an upbeat mood following the game. The HK Poprad netminder faced 55 shots and turned away all but two of them in a 2-1 loss against Russia.
How do you assess today's game?
´It was a good match. We were still close to the Russians even when we were behind. I think we played really well, although our first period was a little weaker. We gave them too much respect, but then we improved. We were winning 1-0 and scored a nice goal, but then we made two mistakes that really cost us and in the end we lost 2-1.´
You faced 55 shots. This is a very large number. Were you expecting it?
´I'm used to a lot of shots because I play in a club which is close to relegation! Every game I have to face 40 or 50 shots, so I'm used to it. Slovakia took the lead at the beginning of the third period.´
How did you see your team´s goal
´I think the goaltender made a mistake, because he should not have given the rebound. It cost him dearly as the puck bounced from the boards and landed on the stick of our player.´
Yet you were unable to hold the lead and Russia came back to win.
´Before the first goal I began to regret that I didn´t sharpen my skates before the game. I thought that they were not so bad, but then it backfired because it meant that I was not fast enough to move. And the second goal? It was a breakaway so there is only a 50 percent chance of saving it.´
The end of the game was quite gritty. How did you see it?
´The tension was rising, it was clear. We were quite rough and took some penalties that we might regret. Maybe we lost because of the five-minute penalty.´
What from today's game can you take into tomorrow?
´Tomorrow we have maybe an easier opponent, so maybe it will be easier. We skated well and we competed. We were not afraid of the other team and that is the main thing.´
Short news
Saturday´s schedule
14.8.2015
- 15:00 - FIN vs RUS (3rd place, Bratislava); 17:10 - CAN vs SWE (FINAL, Břeclav). All times CET.
Friday´s schedule
13.8.2015
- 14:00 - SVK vs SUI (7th place, Bratislava); 15:40 - CZE vs USA (5th place, Břeclav); 17:30 - FIN vs SWE (semi-final, Bratislava); 19:00 - CAN vs RUS (semi-final, Břeclav). All times CET.
2015 Ivan Hlinka Cup
20.7.2015
- The 2015 Ivan Hlinka Memorial Cup will take place in Břeclav and Bratislava, from August 10 to 15.
Pre-tournament games
15.7.2015
- Before the beginning of the 2015 Ivan Hlinka Memorial Cup, two pre-tournament games will be played on August 8. The Czech Republic will play the USA in Břeclav, while Slovakia face Canada in Bratislava. Coverage of these games will be available at onlajny.com!
Twitter MIH
9.7.2015
- The Ivan Hlinka Memorial Cup also has a Twitter acount. You can find it
here
!
Facebook
Partners