Gold medal game M.V.P. Brayden Point: ´It for sure is mission accomplished´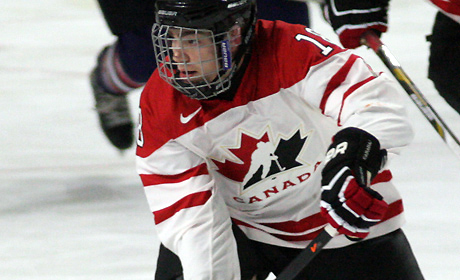 After five tough games in six days, Team Canada forward Brayden Point spoke following his team´s 4-0 shutout victory over Team USA at the Ivan Hlinka Memorial Cup. Point, who had two assists in the final, was given the MVP award for Team Canada after the game, as he dished the puck for Aaron Ekblad´s point shot and then for Brendan Lemieux´s goal at the back door.
Before the final it had been a rather disappointing tournament for Point. The speedy centre had only got on the board twice with a goal in the game against the Swiss and an assist against the Czech Republic. However, the Moose Jaw Warriors forward shone in the third period in the final, getting two assists in less than two minutes to help secure the gold medal for Canada.
For Canada's fourth, Point was dogged on the forecheck, forcing the turnover and taking the puck to the net. Alex Nedeljkovic was able to make the first save, but the puck trickled across the crease to Brendan Lemieux who lit the lamp.
Speaking about the play, Point said, "I spun off my guy and just took it hard to the net. Good things happen when you drive to the net and the puck fell to Brendan and he roofed it."
It was a second gold medal in U-18 competition in four months, as the Canadian side won gold at the IIHF World U-18 Championships in Sochi, Russia. Point was not part of that Canadian roster, but shone in his first full season for the Moose Jaw Warriors. After joining the club as an underager, scoring 10 points in 14 playoff games, the 17-year old scored 57 points in 67 games for the Warriors, finding the back of the net 24 times in the process.
However, Point's focus was purely on winning the gold medal with his team at the Ivan Hlinka Memorial Cup.
"Right now was about winning the gold. However, now this tournament has finished, I think it's a good confidence boost going into next season."
Things did not always go Canada's way at the Ivan Hlinka Memorial Cup. After a confident victory over the Czech Republic, they slumped to a loss to Sweden, before needing a shootout to defeat Switzerland.
However, the Canadians bounced back with a confident performance in the semi-final against Russia, and then against the United States. Speaking about what Canada did right, Point stated, "I think we just bought into the game plan that the coaches laid out for us. They are smart coaches and it took every guy buying in and that's what we had."
Not only did Canada defeat their North American rivals comfortably, they also got the exclamation point by adding a shutout. Julio Billia made 21 saves for his shutout, and Point, who hails from Calgary, Alberta, commented, "We have got to give a lot of credit to Billia. He played great all tournament and again tonight he was just awesome."
Following their 4-0 victory over the United States, Canada has now recorded its sixth straight gold medal at the Ivan Hlinka Memorial Cup, and their eighteenth gold in total. When asked whether the Canadians were feeling any pressure to keep the streak alive, Point said, "We felt the pressure of the streak but we were confident with the group that we had. We faced a little adversity but it was good for us to battle through it and we showed a lot of heart."
He concluded, "It feels awesome to get the gold medal. That's what we came here to do. It for sure is mission accomplished."
Short news
Saturday´s schedule
12.8.2016
- Bronze medal game: SWE vs RUS, 15:00 CET at Bratislava. Gold medal game: USA vs CZE, 17:30 CET (note time change) at Břeclav.
Friday´s schedule
11.8.2016
- Friday´s schedule is as follows: 14:00 - SVK vs SUI (7th-8th, at Bratislava), 15:30 - CAN vs FIN (5th-6th, at Břeclav) 17:30 - USA vs RUS (semi-final, at Bratislava), 19:00 - SWE vs CZE (semi-final, at Břeclav). All times CET.
Pre-tournament games
12.7.2016
- Before the beginning of the 2016 Ivan Hlinka Memorial Cup, two pre-tournament games will be played on August 6th. The Czech Republic will play the Canada in Břeclav (18:30), while Slovakia face USA at 17:00 in Piešťany. Coverage of these games will be available at onlajny.com!
Twitter MIH
9.7.2016
- The Ivan Hlinka Memorial Cup also has a Twitter acount. You can find it
here
!
New partner - CEZ Group
6.7.2016
- Ivan Hlinka Memorial Cup 2016 has a new partner - CEZ Group.
Facebook
Partners